Forest School Training – Voucher 10% discount!
With the current Covid-19 situation gripping all our thoughts, it is always worthwhile looking to the future when we can #GetOutside. There are a number of online providers, claiming to give you the skills, knowledge and experience to train as a Forest School Leader but if that is not the route for you, why not buy a Future Training Voucher, entitling the holder to book onto any future Forest School Training dates with Inspired Forest School…with a 10% discount.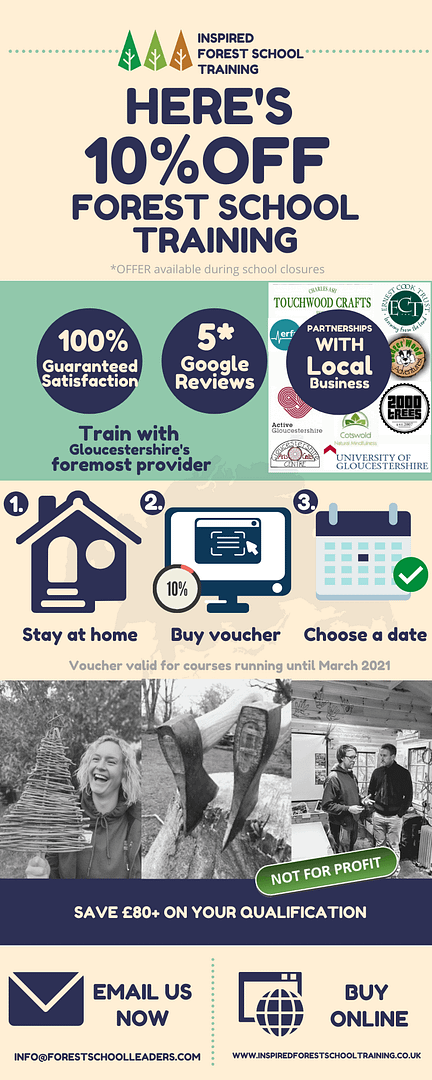 Our training costs are kept to a minimal as a not-for-profit company, so offering money off our qualifications is not a decision taken lightly. This 10% discount equates to a drop in our usual Forest School Leader training from £895 (no vat) to £787.50 – you will not find this cheaper anywhere else, guaranteed! We offer this to enable, give hope and continue to promote the importance of quality outdoor learning.
An Event with an ID of "7341" could not be found. Please contact the event administrator for assistance.

1. Purchase an open ended voucher
This voucher entitles the holder to join any future Forest School course run by Inspired Forest School Training. It is offered with a 10% discount on full price training. We have never offered a discount on our Leader training before; this offer will only last whilst schools are closed after whcih point the price will be maintained at £875 (no vat).
From September 2020 our prices will rise, in line with our own costs, to £895. Therefore it has never been a better time to decide to be a Forest School Leader!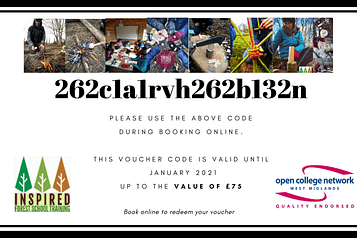 2. Secure with a deposit/pay in full
Once you have ordered a training voucher, an automated email with an invoice will request payment. This can be processed by BACS or a cheque. If you would like to secure the voucher, but continue payment over a number of months, please email [email protected] once you have placed you order. Annie will be happy to set up a payment scheme that works for you with a £75 initial payment to secure the booking.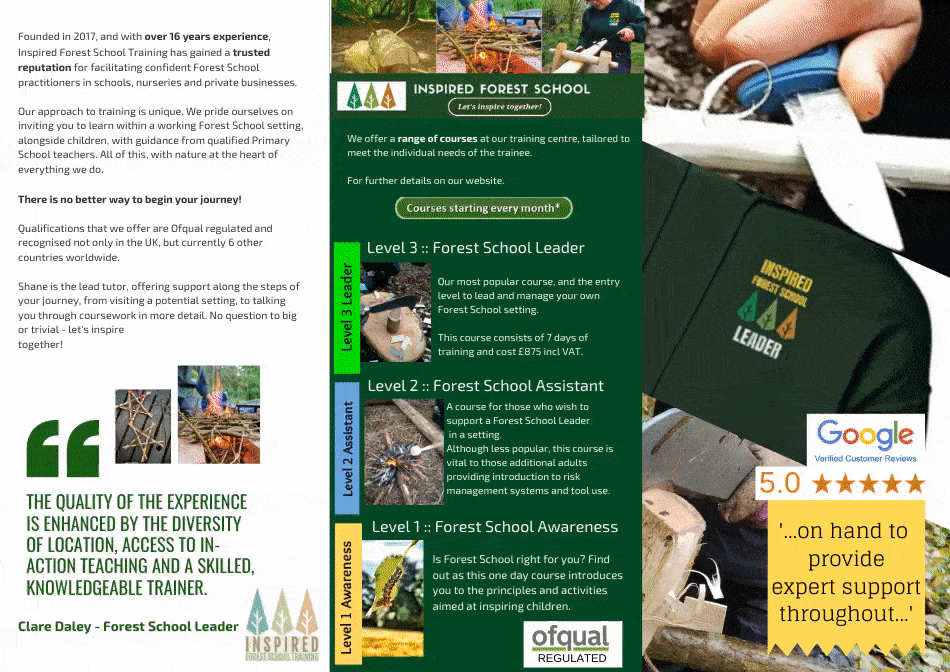 3. Receive your unique training voucher
Full payment – £787.50 (£875 usual price) – made, we will send your personalised voucher valid for any course run by Inspired Forest School Training until March 2021. This voucher can be used by you, or purchased for a friend to use.
4. Once we re-open: Choose one of our monthly courses
With the signal to re-open, we will have a range of courses starting as soon as possible. Inspired offers courses monthly, with the exception of of school holidays and December.
You can book on any course, although a course will be closed once we reach the cap of 10 participants. This ensures that the cohort receives the level of support required and maintains high standards.
More questions? Please feel free to email [email protected] and we will be happy to talk through and clarify anything else.
Take care and let's inspire together!
Mark and Shane
Forest School Training Voucher