Inspired Forest School Training
Inspired Forest School Training
Inspired Forest School Training
No event found!
INSPIRED FOREST SCHOOL KIT LIST





Here is a comprehensive Forest School Leader kit list. All of the equipment here has been put to the test by the most important customers in Forest School, the children!
This Forest School kit is used daily and has been selected by a team of Forest School Leaders alongside the children who take part in sessions. 
We are constantly adding to and amending our list to ensure that you are offered the best quality in this Forest School shop Any questions, just drop us an email: [email protected]



---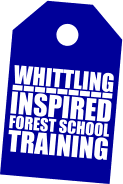 Whittling – to carve into an object, usually wood, repeatedly cutting small slices with a knife or blade
---