Inspired Forest School Training
Inspired Forest School Training
Inspired Forest School Training
No event found!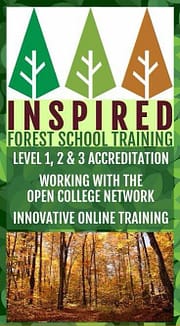 Forest School Training
We offer training for all levels of the Forest School qualification. Our training takes place in a working Forest School in Gloucestershire. At our setting you will find a practical approach to learning. If you would like to find out more please use the links below: 
Level 1 Forest School Awareness – 'I'm interested in Forest School and would like to find out more.'




Level 2 Forest School Assistant – 'I want to support a Forest School Leader but not run sessions'




Level 3 Forest School Leader -'Looking to Lead Forest School sessions with all ages.'




Forest School CPD – 'Do you run any development courses? I'm looking to up-skill!'



All of our courses run from our dedicated training centre in the heart of the Cotswolds. Furthermore we run sessions in a working Forest School setting, allowing trainees to have numerous practical experiences.
The opportunities to train in the Forest School ethos, whether as a teacher, nursery nurse, teaching assistant or for a business, are all provided her at Inspired Forest School.
Training can begin at Level 3 if you meet all of the criteria. You can also begin at Level 1 and progress to Level 3 at a later time. Our flexible training dates also allows you to work at your own pace to achieve your Forest School Leader qualification.
If you are unsure of where to begin then please browse the level criteria listed above and find the level that suits you. Any questions that you have can be answered via email: [email protected]